Neck and Back Pain Treatment
Spinal pain and injury affect over 80% of the population at some time during their lives. At Physical Therapy Associates of Schenectady and Berkshire Physical Therapy and Wellness, we are able to provide patients with appropriate education and care to assist with recovery from the acute or chronic stages of neck or lower back pain. An evaluation is performed to determine appropriate first aid and treatment either immediately or within the first few weeks after injury or surgery.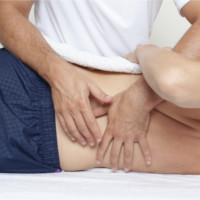 Following a comprehensive evaluation including posture and spinal movement, patients will actively participate in a progressive exercise program and receive modalities, manual therapy, and other treatment procedures as necessary to help them resume normal activity.
Our Neck and Back Pain Treatment provides you with:
Early stages treatment (acute care) - Our patients are instructed in positions and postures that ensure proper healing. Gentle exercises are prescribed as muscles and spinal joints quickly become restricted. Modalities such as electrical stimulation may be used to help make mobility easier.
Ongoing care - Once pain and muscle spasm is reduced, advanced exercises are introduced along with spinal mobilization/manipulation and deeper soft tissue work. This will help free up long standing stiffness in the spine that contribute to recurrences of spinal pain.
Rehabilitation - Strengthening and flexibility are key to full recovery and prevention of future problems. A flexible spine and strong core alows our patients to work, play and exercise with confidence.
After care - Visits to PT are reduced as pain continues to diminish and confidence to engage in all life's activities. Communication to our physical therapists is encouraged through phone calls and emails to promote further wellness and reduce recurrences.
Physical Therapy Associates's staff are experts at what they do. Their proven experience and certifications mean you'll get the highest level of care and recover from spinal injury, as well as neck and back pain.