Aquatic Physical Therapy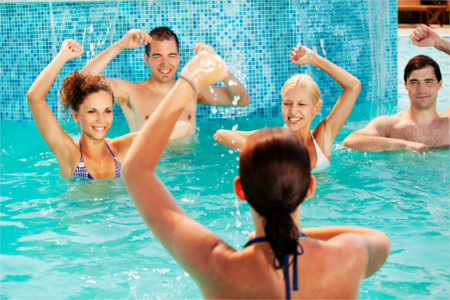 Aquatic physical therapy is a specialized treatment program conducted in a safe water environment. Water provides a buoyant supportive medium for therapeutic exercise by reducing stress on joints and softening tissues, allowing for easier movement.
Water therapy assists in:
​​​​​Reducing pain
​​​​​Improving cardiovascular conditioning
​​​​​Increasing flexibility
​​​​​Increasing strength
​​​​​Reducing swelling
​​​​​Improving balance
F​​acilitating walking
Physical Therapy Associates has been offering innovative and effective aquatic physical therapy programs for over 15 years. Our comprehensive program is ideal for general orthopedic and musculoskeletal injuries, post-surgical orthopedic conditions, chronic pain, fibromyalgia, generalized deconditioning, balance disorders, return to sports, arthritis, gait disturbances, and multi-traumatic injuries.
Aquatics Physical Therapy Program is offered on Tuesday/Thursday 12.00 pm - 1.00 pm at Sunnyview Hospital Rehabilitation Facility in Schenectady, NY.
Please contact our Scotia office at 518-399-6861 for further details. ​